Beverly Hills is well-known for its lavish shops visited by the Hollywood crowd. Whether your taste leans toward trendy modern or you are more inclined to vintage style, there is much to see and shop for on a sunny Beverly Hills afternoon — from fashion and jewels to artwork and furnishings. Here are some of the top vintage shops close to some gorgeous Beverly Hills properties for sale.
LILY Et Cie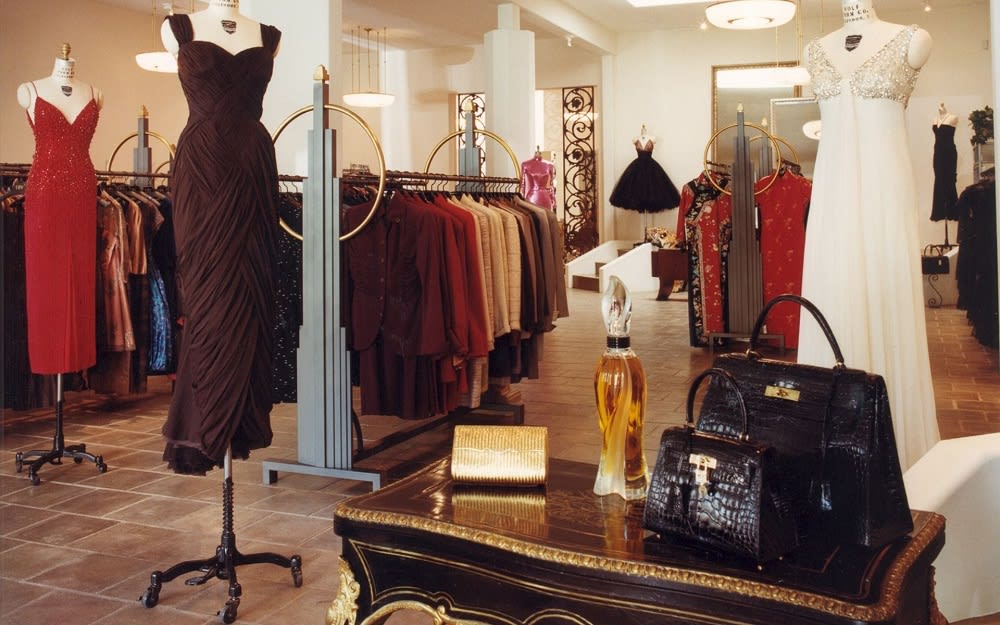 Image courtesy of LILY Et Cie
Located at 9044 Burton Way in Beverly Hills,
LILY Et Cie
features high-end vintage fashion from some top designers. So if you are looking for one-of-a-kind fashion, you will find it at LILY Et Cie.
Whether it is something Rita, the owner, has found in her travels or a client's chic consignment piece, you will find a new spin on personal shopping here. Only serious buyers and top-notch designers visit LILY Et Cie for a new edition to their closet or inspiration for their next runway design.
Visitors from fashion capitals, such as Paris and Milan, travel to Southern California to shop at LILY Et Cie while taking in L.A.'s nightlife. And here it is in your backyard.
What Goes Around Comes Around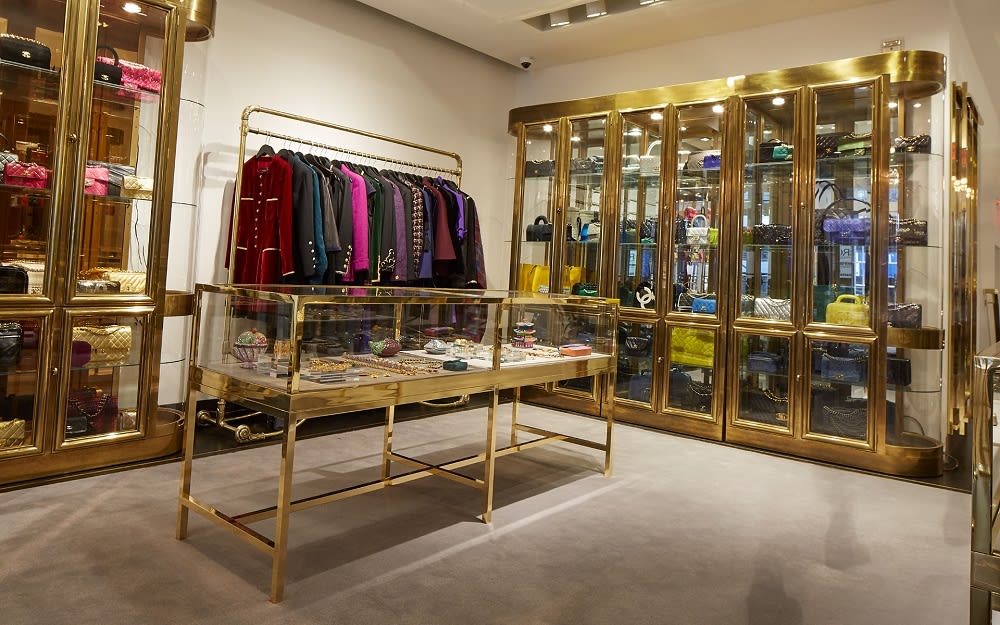 Image courtesy of What Goes Around Comes Around
Speaking of fashion,
What Goes Around Comes Around
is not limited to its Brighton Way, Beverly Hills address. You can find a sister store in Soho or one on Wooster Street — both in New York. But 9520 Brighton Way is the only West Coast address for the luxury vintage What Goes Around Comes Around has to offer.
When looking for closet-classic accessories, rare collectible gifts, or investment items, What Goes Around Comes Around is bound to please. For example, do you need a Chanel denim and natural wicker basket bag from the late '90s or a classic Chanel beige suede retro label clutch with contrast black diamond embroidery? You may find them here. But there is more than Chanel; check out Gucci, Louis Vuitton, and YSL bags as well.
Speaking of respected designers, What Goes Around Comes Around not only features Hermès bags but a wide assortment of gift ideas, including a silver bottle holder with an engraved horse head handle for the equestrian lover. Maybe you would prefer a classic Hermès silver-tone metal letter opener, made in France, with an accented gold-tone horse head.
When you want to shop vintage, be sure to visit What Goes Around Comes Around.
Claude Morady Estate Jewelry
As the shop name implies, Claude Morady specializes in vintage estate jewelry. If you are ready to pop the question or tie the knot, the assortment of vintage engagement rings, including old cut diamond platinum or gold wedding bands for ladies and gents, will bring out the sparkle in your loved one's eyes.
But there is more to celebrate at
Claude Morady Estate Jewelry
. From vintage 1950s amethyst and pearl gold earrings to an art nouveau plique-a-jour 14 kt yellow gold necklace of lotus flowers handcrafted in enamel surrounded by a delicate diamond frame, shop gifts for a friend or yourself.
Located right down the road from What Goes Around Comes Around, Claude Morady Estate Jewelry is located at 9615 Brighton Way, Suite 338. We suggest you make an appointment first by calling (310) 275-3104 or by email at
info@claudemorady.com
. This shop is only open on the weekdays.
World's Finest Antiques
If you want additional choices antique and vintage jewelry choices, visit
World's Finest Antiques
at 241 S. Robertson Blvd. With more than 40 years in estate jewelry and thriving in its Beverly Hills location for 20 years, World's Finest Antiques is a consignment house like no other. It boasts a large, diverse inventory featuring its showroom boutique and offering jewelry servicing.
While their hearts are in antiques, the owners have diversified to include modern jewelry and watches, too. So, whether you are looking for a Czech Republic hand-painted Royal Dux figurine or a rare-find new with tags Rolex two-tone 18k rose gold and stainless 904L steel Datejust with a chocolate dial, you may just find them here — if they haven't been sold.
Gifts abound, an example being a rare 1833 English sterling silver pitcher with a wooden handle marked by William Bateman underneath in excellent condition. Looking for artwork with which to decorate the powder room? How about a rare KPM style 20th-century porcelain plaque with a hand-painted transfer underglaze and signed? Check out World's Finest Antiques on Robertson for more.
The Mart Collective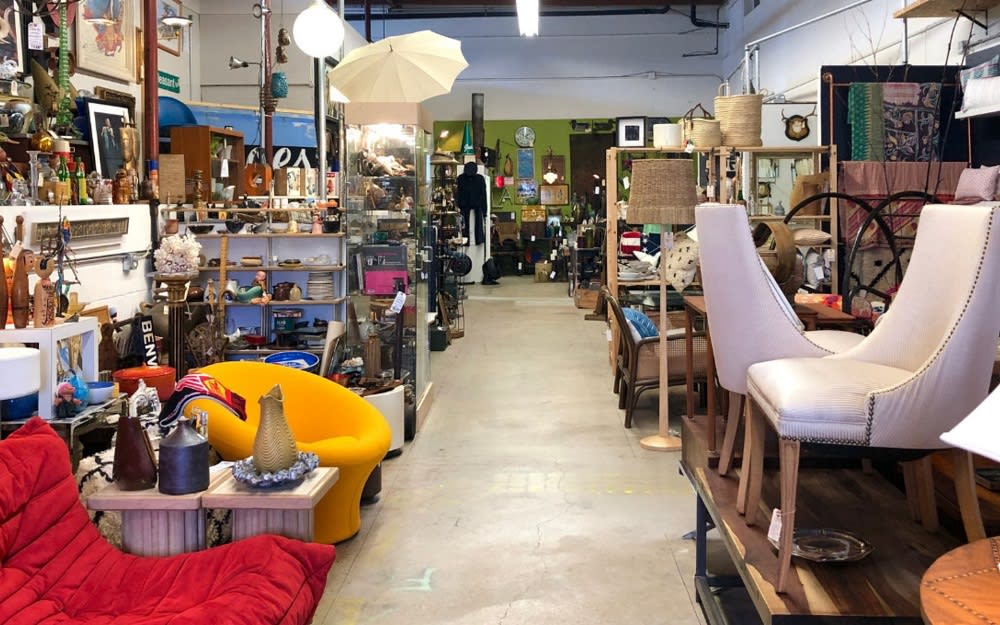 Image courtesy of The Mart Collective
For an afternoon of shopping with more than 120 dealers under one roof, head west toward the salty ocean air and look for
The Mart Collective
at 1600 Lincoln Blvd. in Venice. One-of-a-kind treasures abound, including vintage and antique objects. You never know what you may find, such as a:
Vintage Roseville Pottery petite sunflower pot

Copy of the March 1942 Milady's Bazaar Magazine

Set of 12 vintage Irish Linen Damask napkins

1960s Verner Panton cone chair with original mohair mounted on a chrome base

Vintage wind-up Cubby the Reading Bear toy with original box, made in Japan

Art Deco Vaseline Glass powder box with pressed design

Pepsi Superhero Robin glass from 1978
And that is just barely scratching the surface of what can be found here. With so many dealers, offerings change rapidly — from home furnishings and collectibles to wall art, cultural artifacts, and fine art. The Mart Collective is open daily from 10 a.m. to 6 p.m.
Timeless Vixen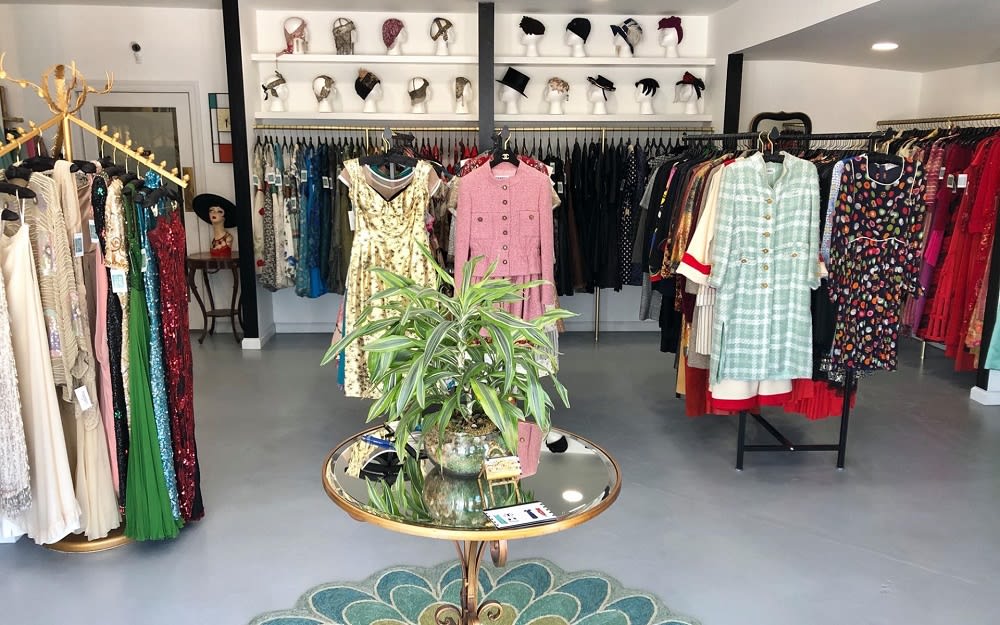 Image courtesy of Timeless Vixen
Just outside Beverly Hills city limits,
Timeless Vixen
is considered "the" place to shop for incomparable vintage fashion, and you won't want to miss it. Owners Lauren Lepire and Douglas Walker transformed their passion into a business by opening their storefront doors at 1100 S. Beverly Drive, Los Angeles, in 2017. Propelling their business forward, the pair has been able to obtain and sell one-of-a-kind items from today's and yesteryears' designers.
As one reviewer put it, "I am a collector of vintage and own a vintage store myself, and Timeless Vixen is the Best of the Best." And she added, "I saw pieces in the shop that I've only dreamed of!"
Indeed. Timeless Vixen has sold iconic items, such as a custom couture cream black sequin silk sailor set worn by Barbra Streisand during an appearance on The Judy Garland Show in 1963.
Timeless Vixen's closets contain evening wear, coats, outerwear, day dresses, separates, and footwear. You can even find wedding gowns and bridesmaid dresses here.
Going back further in time, Timeless Vixen has flapper dresses from the 1920s, such as a small French mint-green beaded sequin chiffon. Do not miss out on the pair of 1890's Cammeyer couture Victorian gold and purple leather lace-up boots that the owners call a "museum-quality treasure."
Looking for a new to you, used cocktail dress? How about an old-fashioned 1958 Ceil Chapman baby-blue lace number?
Visit Timeless Vixen whether you have a need or simply a desire. Call for a one-on-one showing at (310) 734-7989.
Slone Vintage
Head over the hill to Burbank to visit
Slone Vintage
, located in Magnolia Park close to Warner Bros. and Walt Disney Studios. They repair and clean all items before placing them on hangers in the shop.
You will find ladies' wear here in a variety of sizes. Recent examples include a:
Sleeveless embroidered sixties maxi dress in red and white floral, size medium

Pastel green lace maxi from the 1940s made with acetate and lace, size large

Seventies Oscar De La Renta cotton navy and white shift dress with belt, size small

White Emma Domb ball gown from the fifties, size small
Slone Vintage is open Wednesday through Saturday, 12-6:30 p.m., and Sundays, 1-5 p.m., and is located at 3208 W Magnolia Blvd. in Burbank.
The owner, Amy, writes on Yelp, "Not only is Slone Vintage a store, but it's a passage back into time, come chill out on the sofa, read some books, or try on some clothes. Either way, let's just enjoy the ride with what we've got!"
Recess
Located at 111 N. La Brea Ave. in Los Angeles, you can take a breather at
Recess
. Owner Marie Monsod is a fantasy model influenced by her love of nature, Lord of the Rings, and pre-Raphaelite paintings. But the store is chock-full of consignment items and Monsod's picks.
At Recess, you will find designer clothing, accessories, jewelry, and a splash of home décor. From Gucci's 12 bezel bracelet watches to a Gump's San Francisco paisley silk dress, you will find some top-notch vintage fashion here. Maybe your style is more like either a polka dot prairie ball gown by Laura Ashley or a 5-strand Prince Kamy Yar necklace.
When Valentino-designed jewelry, a double lapel houndstooth reefer coat, or a quilted jacket and wrap skirt set comes in, they sell out quickly. Do not miss your chance. Once you have visited Recess, you are sure to venture back time and again.
If you are in the market for some
Beverly Hills real estate
close to sensational vintage shops, high-end boutiques, and fine dining, contact Dean, Drew, or Justin at Dean Mandile to view
exclusive listings
of Beverly Hills homes for sale.